Is Field Service Scheduling and Dispatch Software a Good Investment for Your Business?
Running a successful field service business requires a lot more than just a group of field forces to get the job done. In today's customer-centric business world, it's more than just your quality of service. Beyond that lies customer satisfaction, which can be measured as a customer satisfaction score (CSAT). That's where field service scheduling and dispatch software can help.
Imagine you're an HVAC field service business owner, and it's a scorching summer season. People throughout the city are unable to beat the heat, and you receive a flurry of service requests, with everyone clamoring for immediate attention. If you rely on a sea of sticky notes, a whiteboard full of scribbled appointments, and countless calls to attend to, it leads to scheduling conflicts, and technicians may be dispatched to the wrong job locations.
What if I told you there's a better way to manage it all effortlessly? By investing in field service scheduling and dispatch software, you can automate and streamline your scheduling and dispatch process for better route optimization, First-time fix rate (FTFR), and improved customer satisfaction.
Smart Scheduling & Intelligent Dispatching
As everybody agrees that field operations can't run smoothly without an efficient scheduling and dispatch process. If one of them fails to schedule correctly or the other dispatches the wrong technicians, then everything falls apart one by one.
Smart scheduling & intelligent dispatching are the game-changing features of the all-in-one field service management software. Field service scheduling software allows you to automate scheduling based on diverse factors such as tech availability, skills, and proximity to create optimized schedules that minimize downtime and travel time. Dynamic dispatching software is capable of leveraging real-time data to optimize the entire process, including resource dispatching and route optimization, to enhance productivity, streamline operations, and deliver exceptional customer service.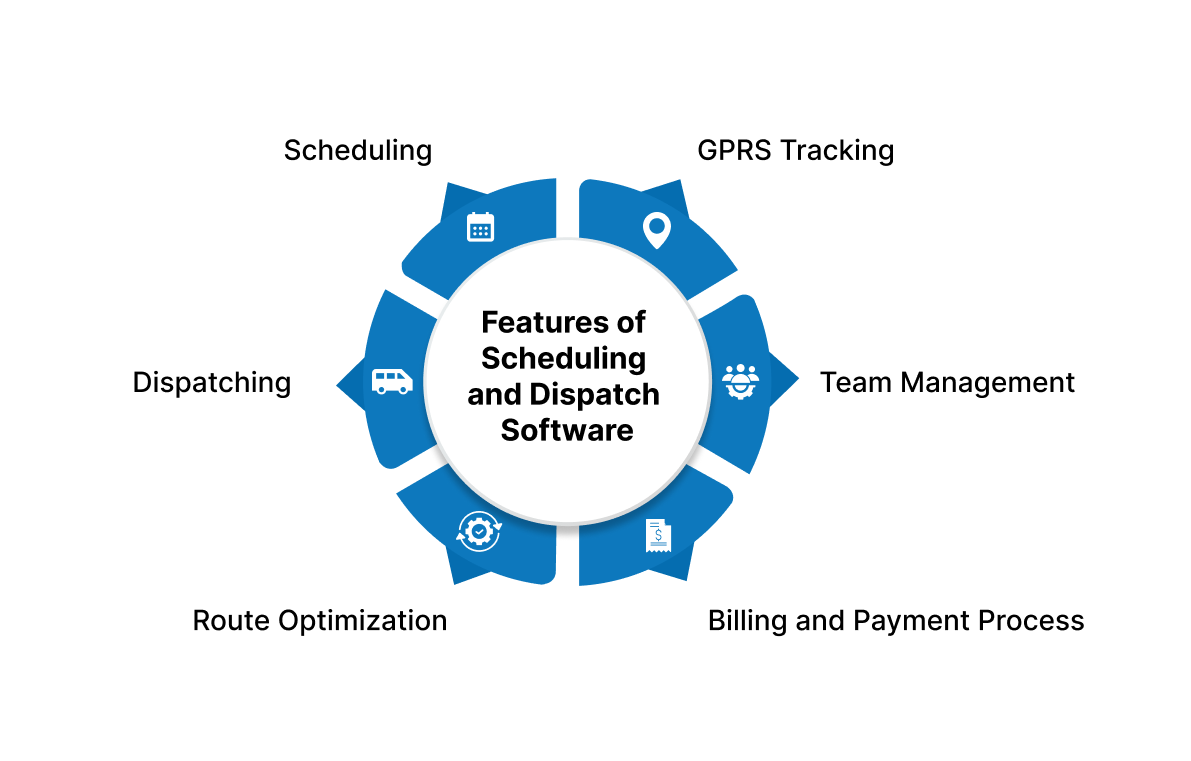 What are the features of scheduling and dispatch software?
Scheduling
The affordable scheduling and dispatch software's scheduling feature enables you to optimize resource utilization and manage appointments, tasks, deadlines, and minimize conflicts or overlaps.
Dispatching
Dynamic dispatch facilitates job assigning and coordination tasks to the right field technicians. This feature streamlines the process of dispatching work orders to the right personnel on time, increasing response times and operational efficiency.
Route Optimization
Optimizing technicians' routes helps businesses achieve maximum efficiency. Based on real-time traffic, distance, and stops, the field service scheduling and dispatch software suggest optimized routes for faster service delivery, lower fuel costs, travel time, and enhanced customer satisfaction.
GPRS Tracking
The GPS tracking system leverages GPS technology to track and monitor the tech's location in real-time. This helps businesses with better resource management, improved technician safety, and great customer service through accurate ETA (Estimated Time of Arrival) updates.
Team Management
A field service management software with a team management system allows you to manage your entire workforce from a centralized dashboard. You can assign tasks, track performance, monitor attendance, distribute workloads, and ensure efficient collaboration among team members.
Billing and Payment Processing
The automated billing and payment feature allows you to generate instant invoices with a click of a button, send them to customers, and track payments. This system can be integrated with payment gateways to facilitate online payments for seamless billing cycles and improved cash flow.
Why Should You Invest In Field Service Scheduling and Dispatch Software?
Streamlined Scheduling Process
The dynamic field service scheduling and dispatch software make it easy to monitor each technician's daily schedule. An effective field service scheduling software allows you to effortlessly manage your team's schedules, assign resources efficiently, and avoid conflicts. With a few clicks, you can create, and schedule tasks, ensuring that each technician receives the right information and arrives at the right location at the right time with the right tools.
Resource Optimization
There have been times when you have to list all the jobs available for the whole day and schedule them for each technician, and the dispatcher has to arrange the locations in order of priority and proximity to reduce travel time and downtime.
Effective resource allocation is very important to run a successful field service business. Fieldy's field service scheduling and dispatch software provides real-time visibility of technicians and resource availability, enabling you to make informed decisions promptly. The scheduling and dispatching software allows you to assign the right field personnel based on the tech location, skill, experience, and availability, resulting in reduced downtime, minimized travel time, and improve overall operational efficiency.
Keep Customers Updated In Real-Time
Field service management software provides prebuilt professional SMS and email templates that can be personalized to send to specific customers. From turning quotes into work orders to job completion, the scheduling and dispatch software allows dispatchers to automatically transmit job updates. This empowers you to provide top-class customer service and reduce unnecessary inquiry calls.
Enhanced Customer Experience
Customer experience is the key to growing and expanding your business reach. In this competitive field service industry, where every business is trying to achieve a higher customer satisfaction score (CSAT), it's essential to focus on customer experience and quality service delivery.
Scheduling and dispatch software plays a prominent role in improving customer satisfaction. With a dynamic scheduling system, you can reduce waiting times and offer more accurate appointment windows, lowering customer frustration. Real-time updates and notifications enable you to keep customers informed about the technician's ETA or rescheduled appointments in case of any delays, creating a sense of transparency and reliability. Fieldy's field service software allows for fast rescheduling and empowers you to handle emergency situations effortlessly, offering better customer service.
Data-driven Insights
Data is more than just a valuable asset for a business, and most field service businesses rely on data to offer optimized and enhanced customer experience. Fieldy's affordable field service management software for SMBs provides helpful insights into your business operations. With the centralized service history with customer details, you can identify patterns, optimize schedules, and identify areas for improvement.
Rescheduling Appointments
The automatic rescheduling feature of cutting-edge scheduling and dispatch software reschedules failed or delayed services for the next business day and informs the customer in real time.
Meet Emergency Delivery Orders Promptly
A centralized map view that displays every technician's live location throughout the day makes it very easy to assign critical deliveries to the closest technician. No matter how short the deadline is, this helps guarantee that your clients always receive their items on time. Intelligent dispatching software with real-time visibility into every technician's location allows you to dispatch the right field worker to the right place with the right tools for emergency work orders.
Increase Your Field Service Operational Efficiency With Fieldy
Fieldy is an all-in-one field service management software that offers a wide range of features, including smart scheduling, dynamic dispatching, work order management, route optimization, GPS tracking, team management, and billing and payment processing. These features optimize resource allocation, streamline workflows, improve response times, and enhance customer satisfaction. Sign up for a free trial and increase your business efficiency with Fieldy.
One Platform for all your Field Management Needs!
Sign up for a FREE trial. No credit card required.
Can't find what you are looking for?
Post your query now, and we will get in touch with you soon!
Explore more content
Explore more content